International Spartan Spotlight: Alexandra Carolina Torres
Published: Wednesday, 26 Apr 2017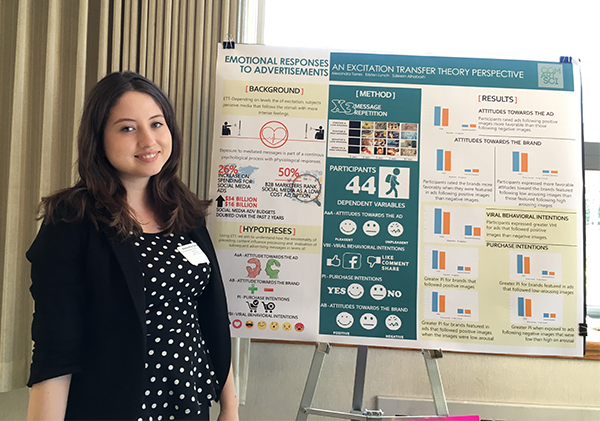 Alexandra Carolina Torres came to Michigan State University from Quito, Ecuador to pursue her dream of becoming a master adwoman. She came to the U.S. searching for opportunities in the advertising industry, and found MSU's top-ranking ComArts program to be exactly what she was looking for.
This April, Alexandra presented her research at MSU's University Undergraduate Research and Arts Forum (UURAF). Run by the media information and psychology lab, her study explored the theory that the media someone sees before an advertisement might affect their emotions more than the ad itself.
"Working in a lab with people from different countries around the world is a very enriching experience," Alexandra said. "When you collaborate, you grow."
Alexandra is making the most of the many global opportunities available at MSU. In addition to her research, this spring Alexandra served as a professorial assistant for a public relations course and worked as a marketing and communications intern for International Studies and Programs.
"I came here to become the best I can, and to give back to my community," she said. Alexandra hopes to one day earn her master's degree, establish herself in the advertising industry, and start a company in South America.
Media Contacts
ISP Communications
Office: 517-884-2135
---
Subscribe to News (RSS)
Sign up to receive updates and news release by our newsfeed. Review the list of
news feed topics.
---
Blogs
OISS LIVE
Study Aborad